Eight o'clock in the morning.  Miss Ada Moss lay in a black iron bedstead, staring up at the ceiling.  Her room, a Bloomsbury top-floor back, smelled of soot and face powder and the paper of fried potatoes she brought in for supper the night before.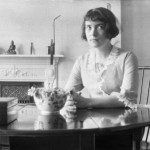 Like many of Katherine Mansfield's short stories, Pictures presents us with a snap shot of the life of a woman who is mired in loneliness and alienation and repeatedly exploited by the men around her.
Ada Moss's daily routine consists of dragging herself around the West End from one show-business agent to another in an increasingly futile and dispiriting attempt to find a booking. She had hopes of finding work in the new film industry, but her route into the pictures of the title is constantly blocked by booking agents who prefer women who are thinner, younger and prettier.
Ada, a former opera singer, is a woman out of time and out of place.  The sensations of the city assault her faculties.  The eyes of those she meets burn into her.  Sights and sounds bombard her.  Even her sense of smell is constantly on the alert. . . .
| | | |
| --- | --- | --- |
| Location | Smell | Emotion |
| Ada's lodgings | soot, face powder, fried potatoes | weariness, apprehension, disappointment, irritation  |
| ABC café | fresh rolls, Jeyes fluid | aggravation  |
| Street outside | petrol fumes | agitation, embarrassment  |
| Kig and Kadgit | Izal disinfectant | disappointment  |
| Beit and Bithems | sweat, furniture polish | humiliation  |
| North-East Film Company | perfume, parma violets | desperation, despair |
| Bitter Orange Company | dust, stale air | humiliation, distress |
| Square Gardens | traffic fumes, horse shit, mud | anguish, sorrow, catharsis |
| Café de Madrid | garlic, coffee, whisky and brandy, cigar smoke, eau de Cologne | resignation, resolution |
Indeed, making a close reading of Pictures, one can almost say that Mansfield is presenting us with an olfactory map of the city.   In doing so she short-circuits the limitations of language and cuts through our cognitive understanding of the text bringing us directly in touch with Ada's psychological state. From morning weariness to evening resignation we follow her journey through the day.