My friend Liz asked me, and a few other bloggers, to consider four questions about writing and then publish the answers on my blog.  So here goes:
What are you working on?
For this blog I'm working on a piece about Norman Cohen's 1968 film 'The London Nobody Knows' and after that there will be a piece on Archie Hill's memoir 'The Second Meadow'.  Elsewhere I'm working on a magazine piece about the films of Terence Davies, the usual bits and pieces of commercial copywriting and a commission to write the company history of a very traditional family firm. Oh, and I try to knock out the odd poem too.
How does your work differ from others of this genre?
There are lots of 'psychogeographic' blogs out there.  Mine differs in that it focuses on the creative human response to landscape; 'the art of psychogeography', as I put it in my strapline.  Initially I concentrated on literary responses to landscape, because that's what I know about.  But, since then, I've branched out into reviews of film and music and I'd like to start looking at the visual arts too.
Why do you write what you do?
Because on the days I don't manage to write anything I feel miserable and useless.
How does your writing process work?
I'm a great believer in morning pages: three sides of rapid, stream-of-consciousness writing in my journal every morning to get the creative processes flowing.  For my psychogeographic writing I find that walking is essential; not just by way of making a field trip to the place I want to write about, but because I find the very act of walking provokes a kind of meditative state which, in turn, stimulates my creative urges.
I work from home, which is great – it means I always get to hear 'Woman's Hour' when I take my morning tea break!  But it also means I'm not as productive in the school holidays when I become the family's chief cook, chauffeur and social secretary.
Here are links to some of the other bloggers who have answered the crucial four questions: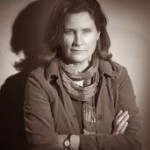 I Buy a New Washer

  Lines Online