A collection of seasonal reading loosely connected by the themes of landscape, time and memory…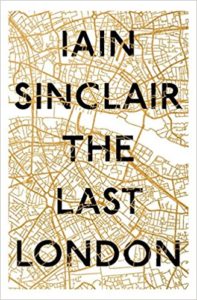 The Last London: True Fictions from an Unreal City – Iain Sinclair
This is the eighteenth and supposedly final chapter of Iain Sinclair's London novel. Or it is if, like me, you view Sinclair's London writings as a single body of work.  From the moment Sinclair arrived in London in the late-1960s he walked.  He traversed the city's streets, footpaths and forgotten spaces creating in his mind an ever-evolving map of the place London occupied in time and space.  Sinclair has explored the occult significance of the alignment of Hawksmoor's churches in Lud Heat, circled the city's outer cordon in London Orbital and traced John Clare's escape route from the city in Edge of the Orison.  In these and his other London writings he has created a body of work that has altered the way we look at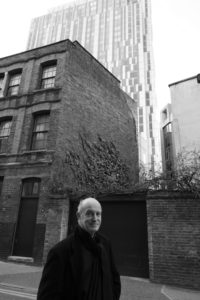 and write about London and, indeed, cities in general.  With a heavily-weighted allusion to Eliot, London is presented as an 'unreal city'. The Last London is a collection of essays each of which has its conception in a series of walks through the city but most of which then branch out into a host of other reflections and speculations.  The collection has the tone of an elegy: a marking of something coming to an end.  Indeed, Sinclair has already returned to his South Wales roots with 2015's Black Apples of Gower and has placed one foot outside of London by buying a flat in Hastings.  But for now he remains a resident of Hackney and, I suspect, The Last London will not be his final word on the capital.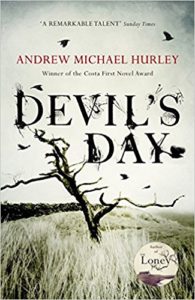 Devil's Day – Andrew Michael Hurley
Andrew Michael Hurley is the author of The Loney, a surprise best-seller from 2014 and winner of the Costa first novel award.  As with his previous book, Devil's Day risks being saddled with the genre fiction label 'British folk-horror', which is a little unfair to a writer of Hurley's originality.  The Endlands is a remote corner of upland Lancashire.  Farming families struggle for generation after generation, trying to eke out a living from the unforgiving land.  Yet somehow it all works: the land always provides and its inhabitants live in balance with it and with each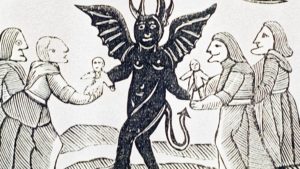 other.  But something else lurks beneath the surface.  It is to this wind-blasted corner of the north that John Pentecost, having given up a teaching job in the south, brings his reluctant, pregnant wife.  They encounter suspicion and have to come to terms with loyalties based on blood ties and tradition, all set within a landscape mediated by ageless ritual.  Throughout it all Hurley successfully nurtures a growing sense of unease and deep-rooted evil.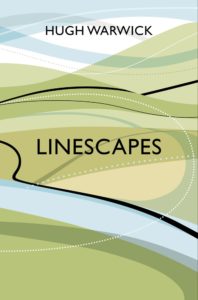 Linescapes: Remapping and Reconnecting Britain's Fragmented Wildlife – Hugh Warwick
Since these islands were first inhabited, human beings have traced lines across the landscape: hedgerows, dry stone walls, green lanes, drovers' tracks, corpse roads, canals, railways and ley lines, all have placed their mark upon the land.  For thousands of years humans have drawn lines across the landscape, destroying wildlife habitats in some cases but offering new opportunities to some species in others.  Britain's lines upon the landscape were comprehensively surveyed by Alfred Watkins as long ago as the 1920s with his seminal The Old Straight Track and again by others on many occasions since, including Robert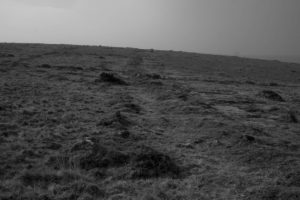 Macfarlane's recent The Old Ways.  But along with the romance of the ancient trackway there was the warning of humankind's damage to the land.  Henry Williamson's The Vanishing Hedgerows, a BBC film in 1972, documented the devastating effect mechanised farming, which required ancient hedges to be grubbed up to create giant fields, was having on the habitat of countless species of flora and fauna.  Warwick provides a first-hand survey of Britain's linescapes.  Whilst the human-made marks on our landscape cannot be erased, he argues, opportunities to rewild and reconnect the countryside using these lines abound.  He gives examples, both planned and accidental, of places where nature has been able to reassert herself and makes compelling proposals for how we might encourage this process.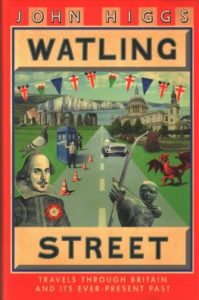 Watling Street: Travels Through Britain and Its Ever-Present Past – John Higgs
One of the most ancient of Britain's trackways was worn into being by the passage of human feet travelling back and forth from the cliffs of Dover across country to Anglesey.  Dover has long been Britain's point of contact with continental Europe and, since the Bronze age, Anglesey has been the site of mining for its rich copper and lead deposits as well as a sacred place in the Druidic tradition.  The track was straightened by the Roman legions who also extended a branch eastwards from Chester to York.  During the Roman occupation it became known as Watling Street.  We can still trace Watling Street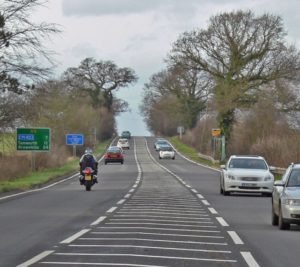 today: it is shadowed by the A2, A5 and M6 toll road.  But its presence is not just physical, argues Higgs.  Watling Street, he suggests, has its own noosphere: a presence that is unique and palpable.  The term noosphere was first coined by Pierre Teilhard de Chardin in 1922 to describe the realm of myth and tradition and its influence on the human mind.  Higgs meets contemporary shamans, sages and other outcasts along the route of Watling Street and reminds us that the past, in both a physical and mythical sense, is always only just below the surface.  Watling Street is part of the story of these islands and, Higgs argues, has the potential to inform our future.
Elmet is a Gothic-tinged slice of folk noir rooted in the landscape of the North of England, a land that, seen through Mozley's eyes, is at once contemporary and mythical.  The story is told from the point of view of 14-year old Daniel who lives with his older sister, Cathy, and their father, John, in a remote cottage in a wooded area of West Yorkshire, an area steeped in the myths of the ancient Brittonic kingdom of Elmet.  John, known simply as Daddy, is a great brute of a man who makes his living with his fists.  Cathy has been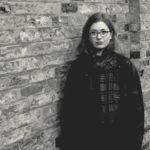 taught how to hunt and forage by her father while the gentler Daniel stays at home to look after their meagre, impoverished household. Elmet is a meditation on family, poverty, intolerance and the all-pervading power of memory. Above all it is a book that draws the reader into the brooding presence of an ancient landscape.  Mozley's prose is full of lyrical beauty and this, her first novel, rightly made it onto this year's Man Booker shortlist.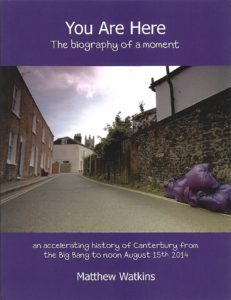 You Are Here: The Biography of a Moment – Matthew Watkins
In the first and final second of forever, I thought of the long past that had led to now and never… never… never… never…

Robert Calvert: Ten Seconds of Forever
Matthew Watkins uses this quote as an epigraph to his You Are Here: The Biography of a Moment.  On 30th December 1972 I see Bob Calvert and Hawkwind take to the stage at the Liverpool Stadium and perform their Space Ritual.  I bare my chest and dance.  Almost at the same moment, in Cambridge Massachusetts, Edward Lorenz delivers his Butterfly Effect paper to the 139th meeting of the American Association for the Advancement of Science.  On the following day two leap seconds are added to the year, making 1972 the longest in human history.  This may have very little to do with Watkins' book, but it does help me to find a personal starting point for reviewing this satisfyingly strange volume.  He describes You Are Here as 'an accelerating history of Canterbury from the Big Bang to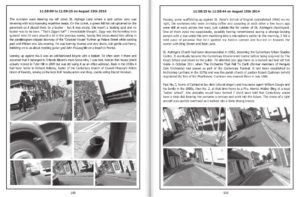 noon August 15th 2014'. It is, indeed, a book about time and place. The place is very small and specific: Canterbury in the county of Kent where Watkins currently lives and works. His temporal scope, however, is infinite: he encompasses the dawn of time right through to the (almost) present day. But what happens on 14th August 2014? The answer is small, specific and infinite, not to mention genuinely unsettling. Time is strange, we learn. It does not progress in a strictly linear fashion. Watkins is a mathematician and an exponent of the concept of retrocausality. And in his incessant patrolling of Canterbury's streets he has seemingly joined the psychogeographic club too.  In You Are Here, with barely an equation in sight, Watkins succeeds in conjuring up the poetry of mathematics.