Ten minutes into the conversation I realise that the writer my MA supervisor is talking about is the same one I discovered for myself some months before, except she gives Walter Benjamin's name the full Germanic pronunciation and I realise I should have known that too, or what was the point of working for that German O level all those years before?  What perspective are you taking, she asks me.  Feminism and Marxism have to be explored, we agree, though I am unsure as yet how I will do that without simply regurgitating my source material.
My dissertation is about early modernist writing: female early modernist writers, the city, walking and the idea of the flâneur.  One of us, I can't remember which, suggests we should use the word 'flâneuse' in the title.  You need to look beyond Virginia Woolf, she tells me.  May Sinclair?  Yes, I'm reading her, and HD too.  What about Dorothy Richardson then?  And that was the moment for me: the start of a love affair that still simmers today.
I think Louisa Treger had such a moment too.  While studying for her PhD thesis on Virginia Woolf she stumbled upon a review by Woolf of a writer whose name she did not recognise.  The review was of Revolving Lights, the seventh volume in Dorothy Richardson's Pilgrimage sequence of novels.  Treger sought out Pilgrimage and was immediately riveted:
Who was Dorothy Richardson?  How had she come to re-invent the English language in order to record the experience of being uniquely female?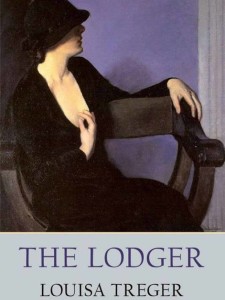 The Lodger, Treger's first novel, tries to answer that question.  It is 'a melding of fact and fiction' exploring a critical period in the life of Dorothy Richardson.  She bases her story on the biographical facts of Richardson's life, most of that life shadowed by Miriam Henderson, Richardson's protagonist in Pilgrimage.  However, huge chunks of Treger's dialogue is imagined and some of the narrative order is smoothed over.
Richardson was once seen as a key figure in the genesis of modernist writing in Britain; Virginia Woolf was a grudging admirer and May Sinclair credited her with creating 'stream of consciousness' writing.  Yet she fell out of fashion and, until recently, had become a somewhat marginal figure in the literary canon.
The Lodger opens with Richardson living in near poverty in a Bloomsbury lodging house in the early twentieth century.  Some years earlier her father became bankrupt through reckless investments and, more recently, her mother, whom Dorothy had been caring for during a prolonged bout of depression, took her own life.  Dorothy works long hours for minimal pay as an assistant in a dental practice.  She often goes hungry to pay her rent, but is nonetheless happy to finally have a room of her own and independence.  Lively and intelligent, she attends lectures and political meetings and enjoys long walks on her own exploring the streets of central London.
Dorothy is invited to spend a weekend with an old school friend, Jane.  Jane is married to Bertie, an up-and-coming writer whom the world will soon come to know as H.G. Wells.  Dorothy feels an overwhelming attraction towards Bertie and soon the two start an affair.  But she is tormented by guilt for betraying her friend.
Trying to break her obsession with Bertie, Dorothy strikes up a friendship with Veronica, a young woman who has just arrived at her boarding house.  Veronica, blissfully unencumbered by any form of English reticence, shares her innermost secrets with Dorothy, including the fact that she recently had an affair with a married man.  Relieved not to have to keep up a pretence of respectability, Dorothy shares the details of her own situation with Bertie.  A bond of trust and intimacy grows between the two young women and soon this finds its expression in physical passion, though she is still seeing Wells.
Things come to a head when Dorothy discovers she is pregnant.  Through her love for another woman and her affair with a married man Dorothy has stepped far outside the rules of society.  Now, expecting a child, she faces disgrace and ruin.  And yet, from her pain and turmoil, Dorothy finds her voice as a writer, filling notebook after notebook each night in her attic bedsit.
But Dorothy Richardson does not want to create a conventional narrative.  As she explains to Bertie, who has been encouraging her to write:
"Actually I detest those written-up things.  You know they're going to be false through and through.  'Mr Meakins always wore his hat at a jaunty angle.'  They're so contrived; they drive me crazy.  It's the same thing that makes me dislike so many novels: the endless accumulation of external detail.  Where's the life in it? …  Reality isn't fixed; it's continual movement and fluctuation.  I'd love to find a way of writing that captures it …"
Dorothy wants to create a new kind of novel, one where the narrative is freed from the all-seeing, all-knowing narrator.  A form of fiction that evokes psychological truth and the reality of female life.  She does not want to write like other writers; even, though she does not spell this out to him, like H.G. Wells.
At last she had it: the method of her novel.  She would banish the narrator entirely.  The inner world of her heroine – her maturing developing consciousness – would be all there was.
Louisa Treger leaves the story at this point, with Richardson caught up in the birth pangs of Pilgrimage.  Reading The Lodger it's interesting to note that, though the subject matter concerns the growth of a woman's consciousness alongside her development of a new form of fiction, Treger's own narrative form is very conventional.  However, she evokes Dorothy Richardson's world and her pilgrimage, in every sense of that word, with profound depth and feeling.
This is a book for anyone interested in knowing more about the life of a woman discovering her creativity during a critical period in English social and literary history; it is not just for people who already love the works of Dorothy Richardson.  While for me, as a confirmed Richardson acolyte, Treger's key achievement is to make me want to go and read the thirteen volumes of Pilgrimage all over again.