Sulphur is a new short film by Christopher Ian Smith.  It is a macabre experiment across documentary and horror.  Sulphur dives head first into the folk traditions and ceremonial weirdness of bonfire night in Lewes, Sussex, an annual event of ritual, some anti-catholicism, and lots of fire.
The shoot involved sending two crews and two actors into the furnace to explore the peccadilloes and darker dimensions of our odd, English folk traditions.
Sulphur features a soundtrack with the analogue electronics of Concretism.  It was edited by audiovisual master Xavier Perkins .
Interview with Christopher Ian Smith
Bobby Seal: Can I ask about the film's title first of all? The word sulphur suggests a whiff of something demonic as in Milton's visions of Hell, but it also brings to mind gunpowder, Papist plots and the horrors of early-modern warfare.
Chris Smith: There are several reasons for this name – one you've pinpointed is the link to the gunpowder plot. I saw sulphur (or sulfur) as the seed of the fire, the crackling fuse of a disaster averted, but also the spark of celebratory fires and fireworks that followed.
Also – sulphur is a more contemporary description of Brimstone, a word which conjures age-old biblical descriptions of hell and damnation. I like the idea that it is this film is a contemporary (through its young characters) look at older traditions and folklore.
There is also a link to William Blake's use of the word in his poetry – with both negative and positive connotations in the exploits of the characters of Orc and Urizen – who represent vital spirit/rebellion and tradition respectively.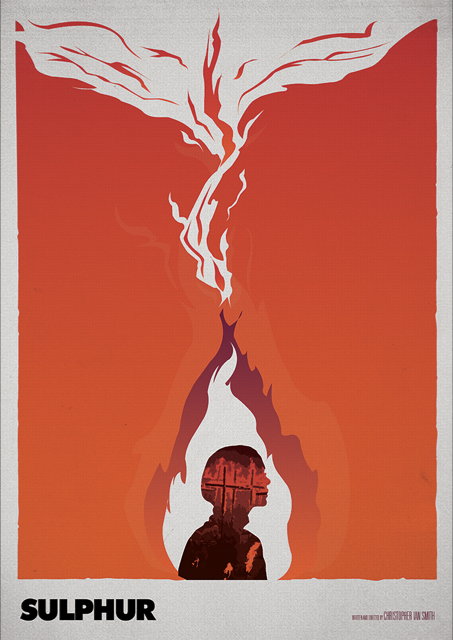 BS: From their first shot under the flyover we get a sense that the two central characters are outsiders, not part of mainstream society.  They then stumble into the Lewes bonfire night celebrations; a festival which, in its origins, proclaims Catholicism as something alien and not quite English.  How important is this idea of the outsider to the film?
CS: Very important. Not to highlight the reaction to Catholicism as an outside influence, meddling from the Vatican etc. but to explore the way we react to the traditions and folklore of others. There are two main reactions to  experiencing age-old traditions– you either respect and contribute (if an option) or you don't. The townsfolk of Lewes take bonfire night seriously – with six bonfire societies planning all-year round. Parades, costumes and bonfires. If, as a spectator, you don't apply some respect someone will let you know. When I first visited the event, nearly twenty years ago – there was a palpable tension between the townsfolk and outside visitors. I wanted the film to tap into this, but also retain a respect for the town and its traditions.
Neither of the characters are locals. I cast Alex as a London boy, Rakel is Scandinavian and plays the role as such.  I didn't reveal a great deal to the actors about what to expect, so their responses were authentic – wonder, surprise, fear…. One of the character's experiences is negative and the other is positive, polarised by the extreme environment.
So many great horrors and thrillers develop tension that develops between a rural or isolated people and the outside interloper. I wanted to tap into that trope through a real-life tradition.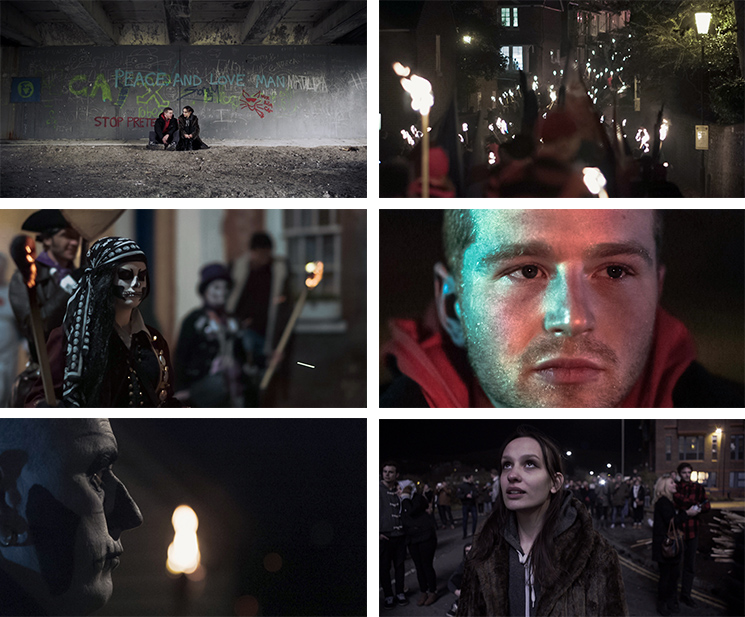 BS: It was so good of the town of Lewes to put on such a wonderful show for you and your film crew!  But at a practical level you only get one shot at it: the festival only happens on one evening each year.  Was that a logistical problem for you?
CS: It was a challenge but then filming in the real world always is. Unless you are on a soundstage you are never in full control of outside elements. In some ways the event made things easier – it's a cracking spectacle in a town full of character – so the art direction and locations were sorted!
I had a window between projects so I only decided to shoot the film a week before the 5th November. So the biggest challenge was finding cast and crew who were available, capable and willing in that short timescale.
On the day/night we split the crew into two units – one a Steadicam with the actors with, the other focused on shooting the observational footage and landscapes. We kept in contact through the night and came together for the grand bonfire finale. The team on this mainly had a documentary background, perfect for this shoot. We had to be bold with what we shot and how we shot it.
BS: You capture some startling imagery from the streets of Lewes: flaming crosses, masked faces and burning tar barrels.  On the surface this is a commemoration of the Reformation and the gunpowder plot.  But does all this fiery imagery hint at something older beneath the surface, perhaps even pre-Christian?
CS: I've heard a few tales and rumours about Lewes' pagan history, including mention of a confluence of ley lines. But maybe the Lewes event is something deeper in the human psyche rather than just the people of Lewes. It's a fantastic way to remember the past, dress up, set things on fire and share a unique experience with others. This seems to occur in so many places with a significant history – and not just in northern Europe.
BS: Do you find the term folk-horror a useful description of a certain type of film, or indeed a book or other art form?
CS: Common threads in work that falls into this category seem to be rural locations, the prevalence of landscape, folklore and magic(k) – not necessarily horror or the black arts. So is it accurate? Maybe not.
However, if this category allows like-minded people to share and experience art that fuels their enjoyment of it, then fantastic. The Folk Horror Revival site and events is a great example. This and other specialist interest groups are the only reason I still use Facebook.
Major influences on me are TV writers of the 70s (Nigel Kneale, David Rudkin, Alan Garner, Terrance Dicks), the landscapes of neo-romantics painters Graham Sutherland and Paul Nash, T.S Eliot, and filmmakers including John Carpenter, Peter Weir and Michael Haneke. The marvellous thing is, I know I'm not alone…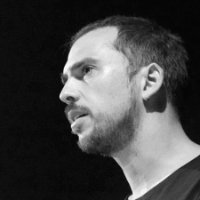 BS: So what's next, Chris?  What are you working on at the moment?
CS: My main focus right now is the feature documentary New Town Utopia. It's probably closer to the genre of psychogeography than Sulphur as it's main character is a place – the town of Basildon, Essex – and we explore its history through memory, poetry, music  and moving image. Architecture, place and environment play a crucial role in the film. The people who feature in the film are a fantastic bunch of characters – artists and activists from the town who've led challenging, funny and sometimes tragic lives.
I've been working on this on and off for 4 years.  Its a labour of love about a place I grew up close to and the film touches on society, politics and the power of art. It is particularly resonant now as it explores the attitudes and issues that led to a town like Basildon voting strongly in favour of Brexit.
It's a town 30 miles from London, planned by Westminster and originally populated by migrants from the city, however it's been forgotten, neglected and left behind like so many towns across the UK.
We ran a successful Kickstarter campaign last year and we're now deep into post production – working on a rough cut and the soundtrack.
The Editor is Neil Lenthall – his NFTS student film won at Sheffield Doc/Fest a few years ago and it will have an original score by the neo-classical and experimental musician Greg Haines. I'm excited to see it completed and we're working on a strategy to get as many eyeballs on the film as possible. This will be through film festivals, community screenings and an outreach programme to try and inspire social change and activism.
New Town Utopia has also evolved evolving into a book project (of poetry and photography) and an art installation – so 2017 is all about realising this project and getting it out into the world.
BS: Thanks for your time Chris, and good luck with both Sulphur and New Town Utopia.