I first heard from Rose Rouse when she asked me if I knew of any women involved in psychogeography.  The fact that there are, indeed, so few prominent female psychogeographers is a subject ripe for investigation, but that's for another time and possibly in another forum. Serendipity, however, was at work and speaking to Rose led me to her wondrous website Not on Safari in Harlesden.
Not on Safari in Harlesden is, as the name suggests, about Harlesden, an area within the Borough of Brent in north-west London.  Harlesden is a vibrant, multi-cultural area that is not without its problems but, through Rose Rouse's eyes, one comes to see that an air of optimism, creativity and tolerance seems to pervade the place.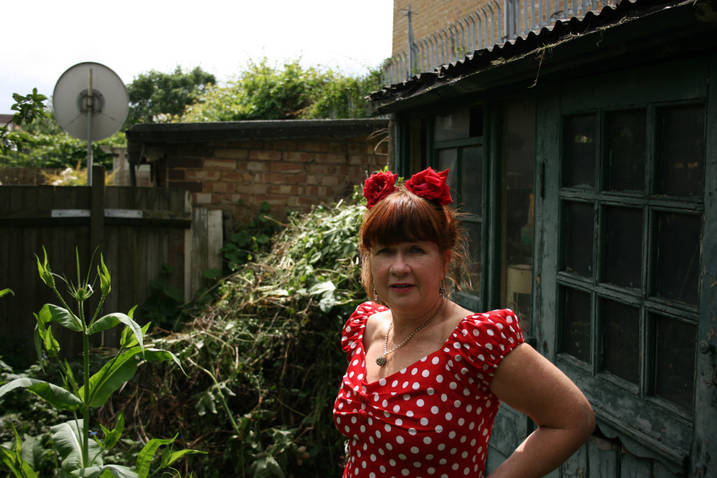 Rose set up her website to record her explorations of Harlesden and, through the words of the people she walks and speaks with, uses the site to allow Harlesden to speak to the world.  I asked Rose why she felt Harlesden made such a good subject for her project.
"To me, Harlesden was a great subject because I felt that I lived here but I didn't really know it.  And at some level, I felt afraid of it.  That it was so diverse – incomers have arrived from mostly Jamaica and Ireland in the 50s, then Pakistan and India in the 60s, after that Afghanistan, Brazil, Portugal, Columbia, Somalia and more.  I wasn't sure a white middle-aged, middle-class woman would be welcomed.  That was my personal challenge.  I wanted to feel that Harlesden was my community."
"Harlesden has a wayward character", Rose explains.  "It's unrestrainable, loud, and ballsy.  I loved the way when I arrived everyone double-parked as the norm. There's a Wild West feeling here and an exuberance. So far it has resisted gentrification…"
Rose Rouse has been a journalist for over 20 years.  Not one to avoid controversy, she recalls being pelted with bread rolls by Frankie Goes to Hollywood in the green room of The Tube after she gave their album a poor review.  More recently she has done work for The Observer, GQ and (say it quietly) the Daily Mail.  Books Rose has published so far include Missing (2008) and Last Letters to Loved Ones (2009).
Rose doesn't profess to be a psychogeographer, though much of her methodology is familiar to those of us who find that tag useful; she walks, she observes, she soaks up impressions, she gives as much credence to the landscapes of the imagination as she does to those of the official guidebook.  Most of all she speaks to people, and allows them to speak through her writing.
Maybe it's a thing with male writers, or maybe it's just me, but when I compare my own blog with Not on Safari I feel quite socially inept!  Like many male writers, I have a tendency to concentrate on ideas and things rather than people, hence my writing doesn't have the life and vibrancy that leaps out at you when you read Rose's website.  She describes her philosophy behind Not on Safari in Harlesden.
"I say it's a mixture of urban anthropology, memoir and happenings.  I bring my life to Harlesden as well as Harlesden bringing its life to me.  Sometimes, I treat Harlesden as a stage. I sat underneath a sign saying Talk To Me in an attempt to embrace strangers.  And I embraced quite a few. I made a short film with eight friends dressed in red where we danced the walkways of our railway station Willesden Junction, and we seemed to have an infectious effect on the other passers-by.  That was like a nomadic journey to see if we could conceive of the industrial bleakness as beautiful."
"And I like to think that the people I walk with – say different things to a static interview because we are walking in this landscape.  They are moving interviews."
Rose has managed to persuade quite a varied collection of people to walk with her, as you can read about on her website.  Does she find they need much persuading to take part?
"Louis Theroux, a neighbour, politely declined for a while, but I persisted.  Tenacity has always been one of my 'qualities' and I need it for this.  And eventually, he gracefully surrendered.  Alexei Sayle took a little while.  Don Letts and I had a lot of banter for a year before we finally walked together.  I'm still waiting for Tamsin Greig to relent, she lives nearby but I always take the formal route via agents.  I used to interview people in the world of rock n' roll so am used to the rough n' tumble of it."
I asked about the Talk To Me happening.  This was where she sat under the Jubilee Clock in the middle of Harlesden with a sign saying 'Talk To Me' and waited to see if anyone would.  I find it quite one of the most moving posts on her blog.  Was she tempted to bottle out of doing it at any point?
"Yes, I had the idea then I didn't act for a long time. Then one of my friends fortuitously mentioned that she thought I was muddling along. That galvanised me into action. My son – who was initially very embarrassed – came along and took photographs. I appreciated that he was nearby."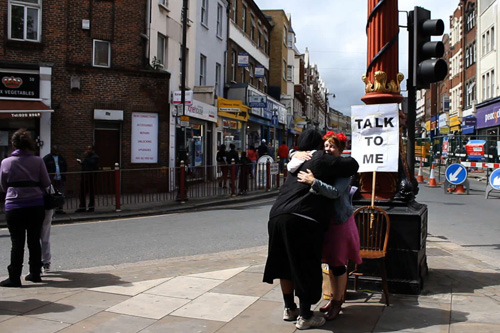 Finally, I ask Rose what other projects she is working on at the moment.
"I'm doing another short film called Dance Harlesden but this time with an original soundtrack. We're having a workshop in September to co-create the music with a talented musician friend.  I've also suggested a documentary to Radio 4 on Harlesden, and am involved with a film-maker who is doing a documentary for TV.
I've had some initial interest from a publishing company re making this project into a book, so have been working on a proposal this summer.  Time Out are running a piece in the magazine about my five secret Harlesden places."
Oh yeah, one more thing.  Why is the website called Not on Safari in Harlesden?
"Because I saw this message posted on the White Pride World Wide Forum, and it was titled Mine and GF's (girlfriend's) Safari In Harlesden: "So I think if any of you need to convince brainwashed whites about the very real dangers of multicultural society up close and personal, then take them to Harlesden."
I was 'disgusted of Harlesden' and this is my riposte…"
Images courtesy of Rose Rouse