My plan was to simply walk and talk with as many different people as possible.  The idea was that these walks would become a kind of interview in motion, and that walking through this urban landscape would spark more tangential conversations than a static one.  I wanted to welcome the unexpected and also a bit of verbal pugilism.  After all, Harlesden is know for its famous boxers, Audley Harrison and James De Gale.  I wanted to invite debate, occasionally heated debate, on to these lively and sometimes troubled streets.
If I was going to write about a place, say a town or a suburb, I would immerse myself in that place by walking its streets, looking, contemplating and, with all my senses, trying to absorb its essence.  I'd probably do this alone, or maybe with one or two friends from my small group of familiar and trusted companions. We would move through the landscape in our own self-contained bubble, with minimal interaction with those around us.
I would take pictures, lots of pictures, but these would almost certainly be studies of things, rather than of people.  Should I write about my explorations afterwards, I would almost certainly put my main focus on the nature of the place rather than exploring the lives of any of its real-life inhabitants.  Sure, I'd write about people, but there would always be a sense of distance; I would speak more as an observer than a participant.
But this is not just speculation, it really is the way I tend to work.  And it is the way a number of other British psychogeographers seem to work too: Will Self, Nick Papadimitriou, Iain Sinclair; the list goes on.  Perhaps it's a bloke thing, because it's certainly not the way Rose Rouse works.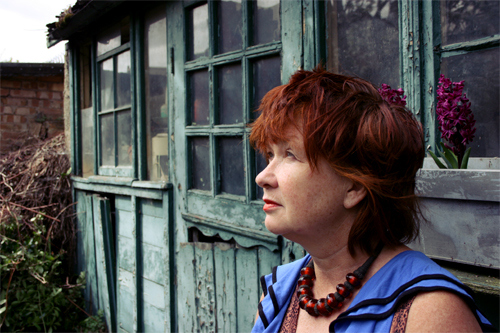 Rose Rouse's A London Safari: Walking Adventures in NW10 is a love-letter to Harlesden, an unglamorous suburb of north-west London.  Rose originates from Yorkshire but moved to Harlesden via Portobello Road several years ago.  She quickly embraced the rich diversity and vibrant community of this unloved corner of NW10 and, in 2010, launched a blog called Not on Safari in Harlesden.  For a time Harlesden was synonymous only with gun and knife crime.  Or at least that was the impression you would gain if your only knowledge of the place came from the newspapers or TV.  The idea behind Rose's blog was to build on the community's ongoing effort to show there was another side to Harlesden.
If you read about Harlesden, it is inevitably referred to as 'vibrant'.  The subtext is dirt, little money and under-privilege.  Vibrant in this case is like the much-debated cultural muddle of exotic.  Only vibrant is active, and exotic is passive.
Not on Safari in Harlesden invited the reader to join Rose on a series of walks through her home area.  But she did not walk alone, instead she explored Harlesden with a series of local companions, some of them well-known, such as Vince Power of Mean Fiddler fame, and others less famous but equally fascinating, such as Danny, her pugilistic newsagent.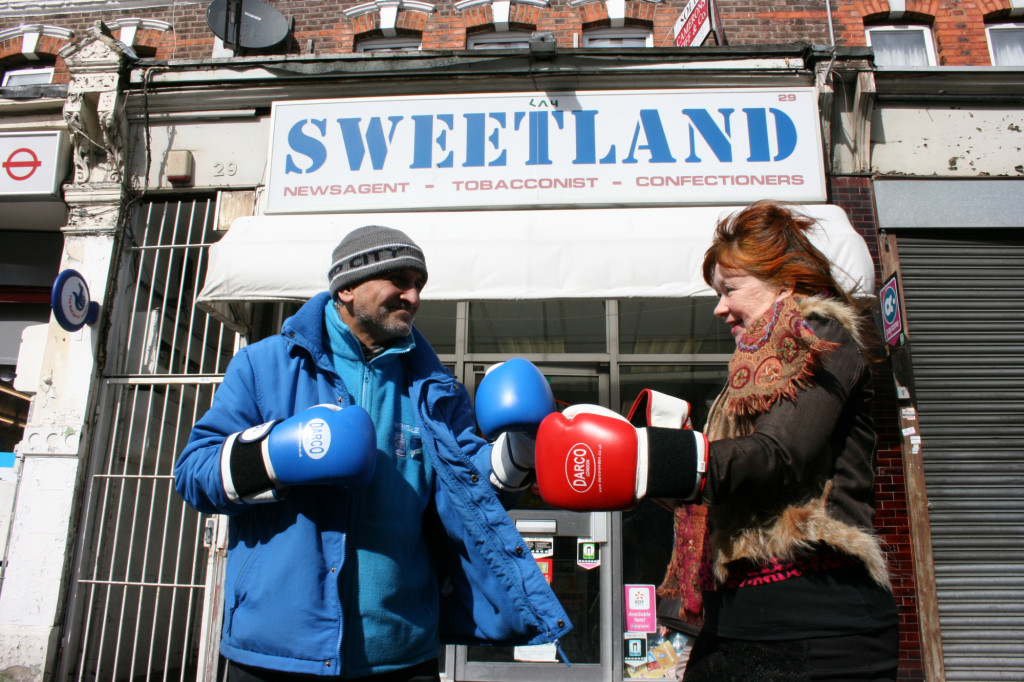 A London Safari covers some of the same ground as the blog, but in an expanded form and with lots more background detail.  It features several new walking companions too.  We take a Trinidadian and Jamaican food tour of Harlesden with writer Monique Roffey, we walk the streets to his mother's home on the St Raphael's estate on the other side of the North Circular with rapper and poet George Mpanga and explore the delights of Willesden Junction station with railway enthusiast Ian Bull: 'This is the Great Western Railway and it's a very self-important railway… somehow the people connected to the GWR think they are superior.  I don't get on with it.'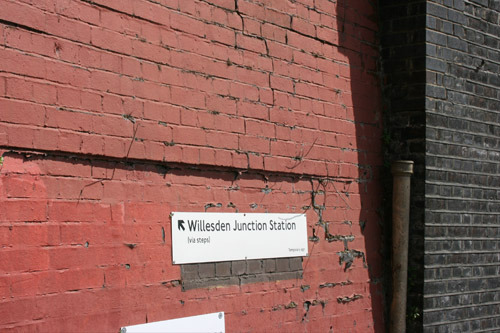 Some of Rose's walking companions are public figures, such as Don Letts, Owen Hatherley and Alexei Sayle but, for me, it is the ordinary local characters she walks with who provide the most fascinating insights into Harlesden past and present.  Sue Saunders, 'mistress of eccentricity', is one of my favourites.  A poet, artist, ex-gas meter reader and Cambridge graduate she takes Rose on a street-combing tour of Harlesden: 'I've got a bird table in my garden that I found down Tubbs Road.'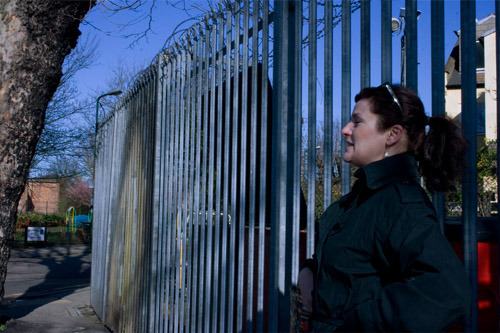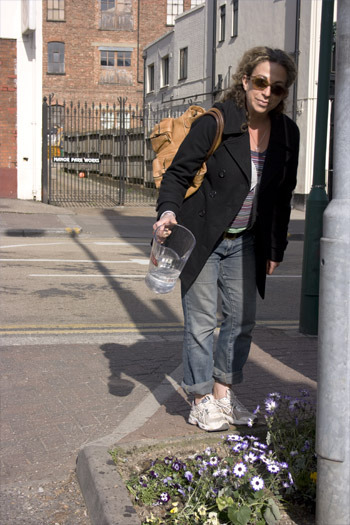 Each chapter of A London Safari is devoted to a particular walking companion; twenty-seven walks in all.  But the book, for me, attests its origins as a blog by the fact that many of the chapters are far too short; Rose leaves me longing to read more, which is perhaps not a bad thing.  The fact is that Rose Rouse's writing in this book is a constant delight, which makes me all the more reluctant to mention one thing I didn't like.  She tends to encase a lot of her subordinate clauses in dashes – a bit like this, only longer – and sometimes I get to the end of a sentence having forgotten what she said at the start.  But then I'm really nit-picking here.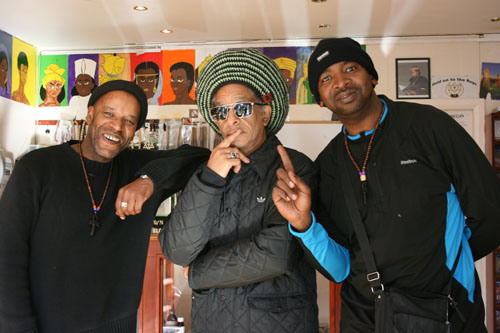 Rose Rouse works as a novelist and travel writer but began her career as a rock music journalist.  Rock in the 1980s was a testosterone, booze and drug-fuelled world and Rose, as a young female writer, needed to be tough to survive.  Some evidence of her tenacity is revealed in the way she pursues her near-neighbour Louis Theroux, via his agent and by email, to persuade him to join her on a walk.  The fact that Theroux went on to write the introduction to this book is evidence of Rose's journalistic powers of persuasion, as well as her contagious enthusiasm.
But it is the warm, human side of Rose Rouse that shines through in this book, as evidenced by the fact that she is able to approach strangers in the street and encourage them to speak to her:
I'm on Ancona Road and a young man approaches me wearing headphones.  I enquire if I can ask him a few questions.
The young man is happy to speak and it turns out that he is called Rav.  He was born in Harlesden to Kenyan and Indian parents and is a politics graduate and off-duty police officer.  Rose is genuinely interested in people and what they have to say.  People respond to her because they sense she is not just gathering material to write about, but that she is deeply interested in the person in front of her and the story he or she has to tell.
At heart Rose Rouse is a story-teller.  She instinctively understands that when people share their stories it helps us all to understand one another and to comprehend the world around us.  The joy of A London Safari is that Rose has discovered, and now shares, a whole world encapsulated in one small London borough.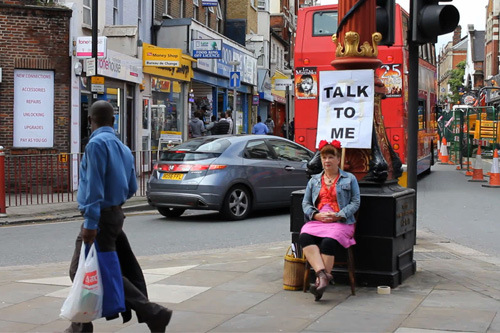 If you love people, urban landscapes and the way the two interact I think you will enjoy this book.  Reading it may even make you feel like visiting Harlesden, which is fine.  But maybe we should take a more imaginative leaf out of Rose's book, and walk our own local streets in the way she does, poking into neglected corners and, above all else, talking to the people we meet and listening to their stories.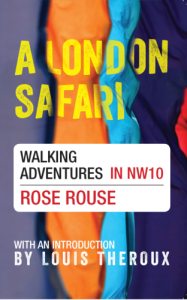 Images used by kind permission of Rose Rouse
A London Safari: Walking Adventures in NW10 (Amberley Publishing, Stroud, 2014) is available from all good bookshops or direct from the publisher: Amberley Publishing