This is a guide to a city you never knew existed, right on your doorstep.  Blink and you'll miss it.
We live in London.  We come from Monserrat and Mexico, India and New Zealand, Horley and Hastings, but this is 2016 and we are all Londoners now.  We live in the parts of the city other guidebooks do not reach: in Willesden, Hanwell and Colliers Wood.  We write about the places that are unloved and ill-served.
We travel from Dalston to Staples Corner on the 266.  We search for optical illusions on Islington street corners and discover that London's 'scars are worn inside'.
Mrs Dalloway goes to Mulberry's to buy flowers and Katherine Mansfield's Rosemary browses for antiques in Curzon Street.  We, on the other hand, shop at Curry's and PC World, and in doing so discover that both shops are one and the same.
We are the writers of whom some will claim they've never heard.  Perhaps we do not even exist.  But we map this city with our words and fill its spaces with our breath.  We are London.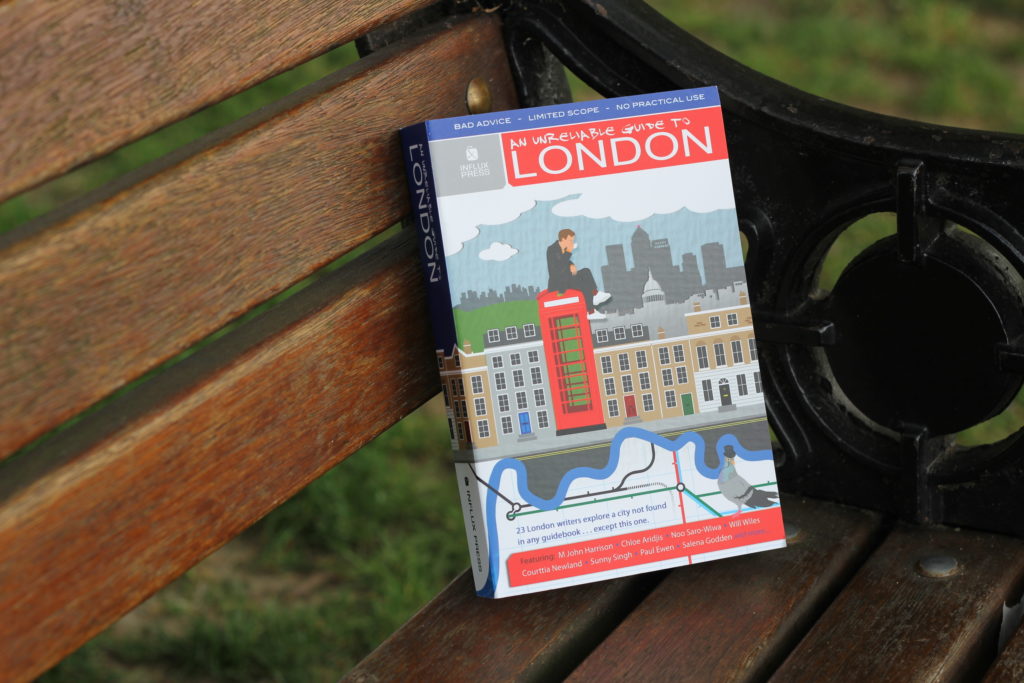 About the book
An Unreliable Guide to London brings together 23 stories about the lesser known parts of a world renowned city. Stories that stretch the reader's definition of the truth and question reality. Stories of wind nymphs in South Clapham tube station, the horse sized swan at Brentford Ait, sleeping clinics in Islington and celebrations for St Margaret's Day of the Dead.
An Unreliable Guide to London is the perfect summer read for city dwellers up and down the country. With a list of contributors reflecting the multi-layered, complex social structures of the city, it is the guide to London, showing you everything that you never knew existed.
Authors: 
M John Harrison; Chloe Aridjis; Yvvette Edwards; Courttia Newland; Will Wiles; Noo Saro-Wiwa; Nikesh Shukla; Juliet Jacques; Salena Godden; Stephen Thompson; Irenosen Okojie; Sunny Singh; Paul Ewen; Tim Burrows; George F.; Gareth E. Rees; Aki Schilz; Tim Wells; Koye Oyedeji; Eley Williams; Stephanie Victoire
Buy From:
Influx Press here
Or any good local bookshop